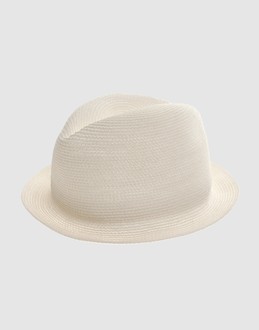 Like I said over at
The Runway Scoop
, I'm definitely a bargain hunter when it comes to shopping for clothing. So, of course, I have to share these bargain discoveries with y'all as well! The latest big sale that's going on is
YOOX's sample sale
where you can find discounts up to 90% off! Yes, ladies, that's 90% off designer items ;) Shop for father's day gifts or even for your kids!
Sale ends June 4th!
Pictured here is a very cute
Men's Prada hat
for the man in your life...It's also available in black and fuschia - although I don't think I'd want my man wearing a fuschia hat ;) Anyways, it's not part of their sample sale, however, it is available at a discount!
Orig. $140 - Now $112.