Spring is practically here and it's time to start thinking about how to revamp that wardrobe! One of the best ways to keep yourself looking fresh with the latest styles without having to break the bank is to invest in a few quality handbags. Believe me, a nice handbag will always make your outfit look new! Various styles of handbags were sent down the runways this season, so there's something for every handbag lover to admire. Here are my top handbag styles for this spring:
Ethnic patterns
. Wood beaded, tribal themed, clutch purses were shown in the
Oscar de la Renta show
. This is the type of handbag you could wear with just about anything. It could be used as an evening purse with a little black dress or worn dressed-down with a pair of jeans and a casual peasant top.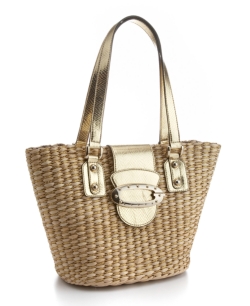 Metallics
. Metallics have been popular the past few seasons and it looks like they are here for another season! Shiny gold over-the-shoulder and clutch purses were seen in the
Burberry
,
Michael Kors
and
Baby Phat
shows, among others.
Hobos
. This is another style that has been around for the last few seasons. The reason why it's so popular is because it can hold just about everything and anything! I especially like hobo bags because I can carry reading material (think about those long lines at the bank!), a makeup bag, my digital camera, and a notebook for jotting down thoughts, ideas, and things to do.
Bold, vibrant colors
. I really liked the colorful
Louis Vuitton purses designed by Marc Jacobs
. Jacobs collaborated with artist Richard Prince to produce these whimsical handbags that some believe should be carried by teenagers, not grown women! I happen to like the cartoon prints and odd mix of spray painted colors. Pucci is another brand that used vibrant colors and abstract designs. Definitely not for the faint of heart!
Art-inspired
. Louis Vuitton wasn't the only brand to come out with artsy-looking handbags. Prada's Fairy bag received quite a bit of attention from fashion editors. Who says art has to be hung up on walls? Why not carry it around with you all the time?!?
Floral prints
. As
an artist who loves to photograph flowers
, I enjoy many of the floral-printed handbags that came out this spring.

Clutches
. In my book, any kind of clutch-style purse will always be in season. Clutch purses in all kinds of colors, sizes and designs will be making their way into handbag lovers' closets this spring. Pictured here is the
Michael Kors Sutton Patent Clutch
Of course let's not forget that a basic black, basic white, or brown handbag is great for everyday wear! If you are going to stick with these basic colors, I do recommend investing in a bag that will stand the test of time. Remember that you can find quality handbags just about anywhere. Just because I mentioned designer names doesn't mean you have to buy these brands to be considered "in style". I have found good handbags in all kinds of places including flea markets, discount stores, and outlets.
Borrow the Biggest Brands in Designer Handbags at BagBorrowOrSteal.Com!