This past spring I chopped off my hair just for a change, and although I love that I can wake up and do my hair in five minutes, sometimes I do miss my long hair - especially now that the weather is starting to cool down. (By the way, I put on boots for the first time in awhile...yay!)
Yes, it's time for another change in the hair department. I did organize all my hair accessories, so hair clips and head bands have been my saving grace.
How about you? Ready for a change this fall? Check out these 13 head-turning hairstyles for fall...
Be the chicest girl on the block with one of these cutting-edge 'dos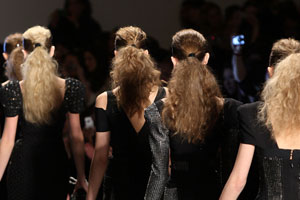 Are you tired of summer's beachy waves (or just putting your hair up in a pony to beat the heat)? Us too. Now that the weather is cooling off, it's time to embrace some new looks! Check out these 13 styles -- all of them are sure to get you noticed (and almost all of them are a snap to do). Find the one that's right for you now!



And oh, stay tuned next week! I'll be sharing hair trends from the runways...